Larry Schuyler's Top Ten Reasons to be the Holland Classis Coordinator
This link is the presentation Larry made to the Holland Classis Minister Support & Supervision Breakfast on November 13
---
Holland Classis Announces New Classis Coordinator/Stated Clerk
We are anticipating the retirement of our current Coordinator/Clerk, the Rev. Dr. Larry Schuyler.  We are pleased to announce that the search for a new Holland Classis Coordinator has successfully concluded.
We are pleased to announce that the Rev. Dr. Daniel Griswold has accepted the position.
Mission and Vision of Holland Classis: Holland Classis is called by God, sustained by prayer, and empowered by the Holy Spirit to be the very presence of Christ in the Holland community. With the RCA, the Classis serves cooperatively the Holland community, proactively supports the ministries of the Classis and its churches (and settings for specialized ministry), and creatively sows new worshiping communities.
Role of Position: The Holland Classis Coordinator/Clerk will provide leadership so the Holland Classis fully lives into its mission and vision.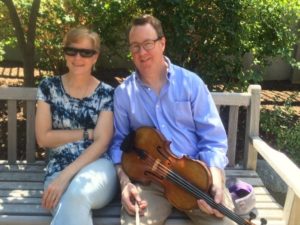 Dan is currently senior pastor at the Trinity Reformed Church in Rochester NY.   He has received degrees from Hope College (A.B.), Union Theological Seminary in Richmond VA (M.Div.) and  Ph.D. from Southern Methodist University in Dallas, Texas 2010.
In the Reformed Church, Dan has served as the Classis President for the Red River Classis, the Rochester Classis, and the Regional Synod of Albany. Recently, Dan was moderator and member of the RCA Commission on Theology. He has also served on the Overtures and Judicial Business Committee for the Regional Synod of Albany.  Dan is a leader for the Chicago Invitation, a gathering of RCA people.
Dan is currently the President of the Penfield Symphony Orchestra and member of the Board of Directors.
In his letter to the Holland Classis search committee, Dan stated,
"I am writing to express my interest in the position of Holland Classis Coordinator/Clerk. The responsibilities named and the leadership attributes appeal to me, as do the strength and vitality of Holland Classis and the ministries under its care. I believe that my own interests and skills fit well what you are seeking and needing in a coordinator and clerk."
"My approach to church leadership is as a disciple of Jesus, a forgiven sinner and pilgrim on the way, who feels deeply and thinks a lot. I bring to all of my pastoral work, even in its administrative forms, the passion, skill, and long experience of a trained classical musician, making me attentive to the discipline and the art of the Christian life."
The Griswolds will conclude their ministry in the Rochester area in November and locate to the Holland area, so that Dan may move into this new role of Holland Classis Coordinator by the start of the new year.  Dan's wife, Tammi, is a skilled nurse who specializes in neo-natal critical care. She is looking forward to securing a similar position in west Michigan.
The Holland Classis is looking forward to welcoming this new leader and family to our area.  We also express our gratitude to Larry Schuyler for his service and leadership.